How to Maintain Your Creative Business AND Enjoy Time Off Over the Holidays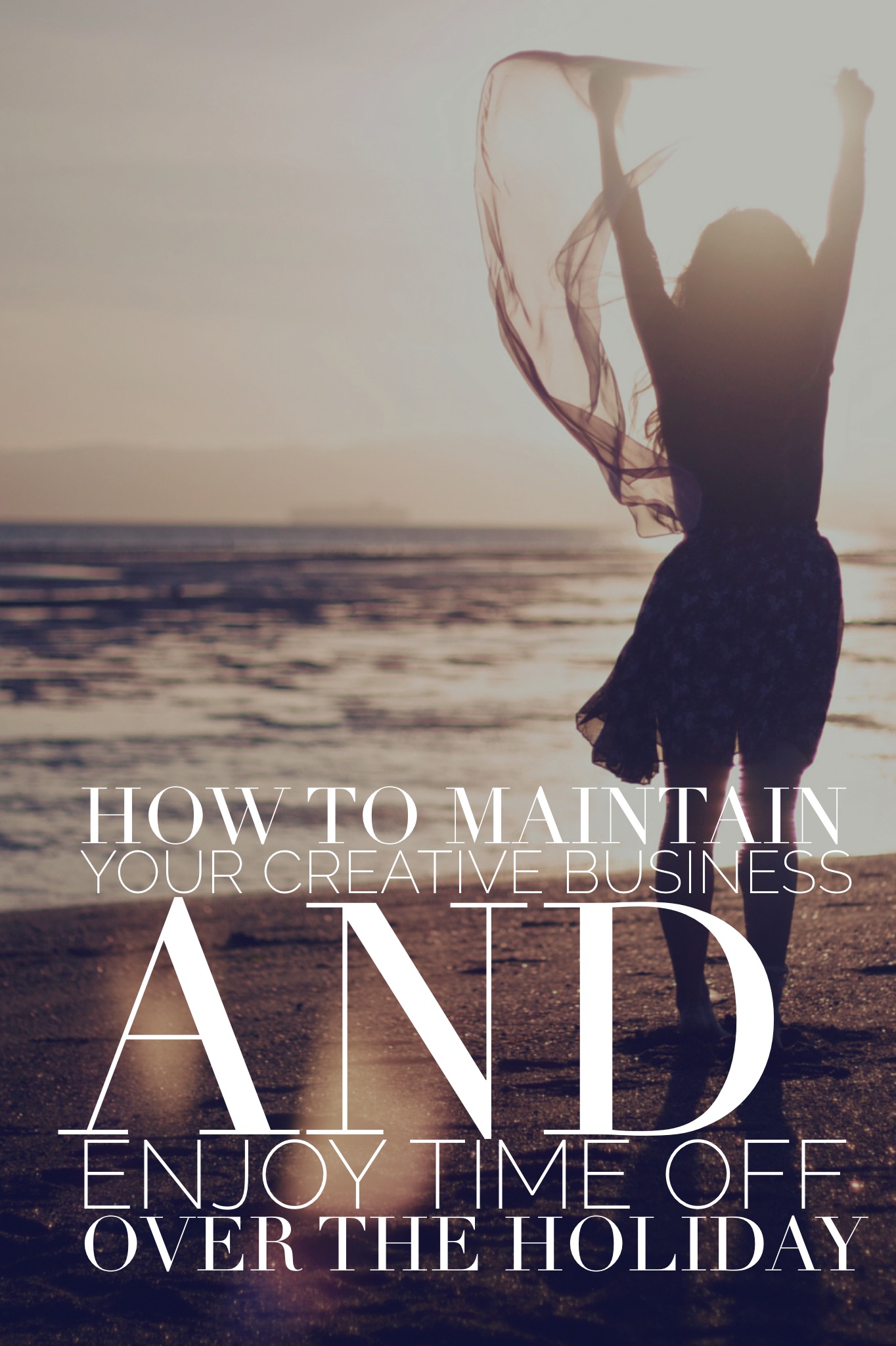 Taking any real time off as a business owner is always a struggle. One of the many blessings of owning a business is having the freedom to work from anywhere. But, completely unplugging to enjoy the holidays and "recharge the batteries" is the hardest part.
It's never easy for us to take time off without worrying about consistent profits. And more importantly, when you're a solo entrepreneur, there's the practical matter of figuring out who's going to take care of clients in your absence.
Here are a few tips to make your holiday vacay as smooth as possible:
Plan Your Time Away Properly. Map out the day or hours you plan to take off for the holidays. Will you close your business on Memeorial Day and July 4th?
Also, consider your workload and hard deadlines. A solid deadline for a project can determine if you will close the entire week versus one or two days over the holiday.
Notify your clients. Notify your clients and vendors of your summer holiday schedule. Let them know in advance which days you plan to take for any holiday. In addition to reaching them over the phone, consider posting your holiday schedule on your website, in your office and on social media.
Set up an out of office auto-responder email. If your inbox is anything like mine, it is bound to fill quickly with tons of emails in a matter of minutes, not to mention days. Returning from a day or a few days away should not be dreaded because of an overwhelming amount of emails. But great customer service will earn you cool points with your customers, and it's just the right thing to do. Setting an auto-responder email should help lessen the heap and keep your customer's happy.
Your message should tell your return and what to do in the case of an extreme emergency. If you're not sure what to say. Here's a sample message:
"Thanks for your message. I'm out of the office for the holidays from May 28 through June 1. I'll respond to your message as soon as I can upon my return. If you need assistance before then, you may reach me at (INSERT PHONE NUMBER HERE).
Happy Memorial Day Weekend!"
Schedule social media posts. As business slows around the holidays, social media activity spikes. The end of the year is not the time to slack on posting. More people are off and use this time to browse social feeds and shop online. Schedule social media messages to post on your days away. This ensures that your brand's social profiles don't wane while you are out. There are several platforms that will schedule posts to Twitter, Instagram, and Facebook during your well-deserved break. Authentic content is always better than scheduled posts, but in this case, it's ok to take a short break. Make sure to include a message wishing your followers a happy holiday.
Blog ahead. Prepare enough blog posts ahead of time for the holidays. Just like social media, you can schedule blog posts while away on break. Writing a few blog posts and keeping them on hand is a great idea in general, but really helps during the summer.
Have fun and enjoy the time off! Studies found that taking breaks can help you stay focused, whereas no breaks will make you lose focus. Taking time off will be a win-win for you, your loved one and your clients. Thoroughly enjoy your days away. Come back refreshed and ready to slay the second half of the year.